As a good number '10', Romina 'la Pepa' Gómez puts the ball under the sole. "Everything is calm", he will repeat several times during the interview with PROFILE CÓRDOBA, the first that he grants after his surprising departure from Belgrano. He is clear that his separation – announced with a brief tweet by Alberdi's club, on April 28 – left many questions unanswered.
"The truth is that I prefer not to talk much about it," she responds to the question about the reasons that led her to get off the pirate ship. "It was a sum of things that had been happening and the truth is that she was not happy," she says. "I felt that they did not value the place that I occupied. I did not feel cared for and I decided to change the air, "she emphasizes.
'La Pepa' Gómez is not just another footballer in Belgrano. She played there for 18 years, was a scorer, benchmark and captain, and preceded 22 titles in the Cordovan Football League and two consecutive promotions in the AFA. Two murals with her image, one in the 'Ciudad de los Cuartetos' neighborhood and another in Pasaje Aguaducho, testify to the recognition and devotion that friends, relatives, relatives and supporters of the celestial club profess to her.
For all this, it was strange to see her weeks ago at the Gigante de Alberdi with other colors, integrating the River Plate delegation, "I lived it calmly, it is my characteristic. I really enjoyed being able to be with my ex-teammates and people I know, and supporting my team", she refers.
"I don't think about retirement. I want football to continue surprising me".
Consummated her separation from Belgrano, Romina reached the "Millionaire" by the hand of Daniela Díaz, who was her coach in the sky-blue team. "It was all very fast, the planets aligned," underlines the midfielder, who is 32 years old.
"I have been living in Buenos Aires since May 8, training with the squad and living in the pension that the club has in Núñez. It's a young team, with a different game model, with a lot of ball possession, and I'm happy, super good. That 'Dani' is the coach is a plus, because she gives me a lot of confidence, although the truth is that I integrated into the group very well", she comments.
"River's women's football is super professional, but the club has a very calm climate. I was looking for that. I want to enjoy football", affirms 'la Pepa', who had already had her Buenos Aires experience playing for San Lorenzo de Almagro, in her adolescence.
"I was there for a while and I came back, because at that time it was difficult to get stronger and be away from the affections. Today I am more mature, I know what I want and I do not regret the decision I made. In the future I was going to regret it if I didn't agree to play in a big club in Buenos Aires and live this new experience", she highlights.
RETURN TO ALBERDI. Romina (the first from the right) and her new teammates, on May 26 at 'el Gigante'. /// WOMEN'S RIO PRESS
kneading dreams
"I put the bakery on hold, closed it and came back," says 'la Pepa' about the scope of her decision to emigrate to Buenos Aires. "Obviously I don't rule it out," she replies about the chance to resume the family business sometime. "Here I just have to train and play. I even take a nap, something I had never done in my life, "she points out with a smile.
"I am also doing, at a distance, the first year of the technical management course. My idea is to continue to be linked to football in the future, although I still don't plan to retire. My legs have not had any injuries and I feel very good. I want football to continue surprising me, "he emphasizes.
"Artime never asked me what was wrong with me. I never spoke to him."
"It wasn't easy, but I settled in," he maintains about the physical distance with his affections, his mother Fresia and his sister Giselle. "I want to enjoy this new experience as much as possible," says Romina, who will sign a contract with River in the middle of the year and will officially start competing in August, after the World Cup in Australia and New Zealand.
"For now I play in training and I can also participate in friendlies", precisely. "Here the goal is for the team to always be as far forward as possible", he underlines his expectations for the next football season.
-A few days after terminating your relationship with Belgrano, you made a post on Instagram remarking that your decision to leave was not for economic reasons.
-It was not for economic reasons, and neither for football. My colleagues know why I left and everything I did to avoid getting to that situation. If it were for money, no woman can make a living from football in our country. Not even in Buenos Aires do they pay you enough to subsist playing ball.
-You say that you tried to reverse that situation that caused you discomfort.
-Yeah. At one point I raised it to try to reach an agreement, but later my decision was to leave the place. I felt that it was time. That I had to encourage myself to get out of my comfort zone and look for a change of scenery. Things happen for a reason, and my colleagues understood it.
-The impression was left that from Belgrano they wanted to "lower the price" on your departure, remarking that it was a "unilateral decision." Even Luis Fabián Artime, the president of the club, expressed in this sense in some notes that were made to him.
-Artime never asked me what was wrong, what's more, I never spoke to him. He only sent me a message when he had already terminated the contract. But it was my decision. I did not want to continue in Belgrano being ill.
-And how are you today?
-Happy, calm, wanting to fully enjoy this new experience that soccer offers me. Right now I am focused on this stage in River, but Belgrano is my home and I know that one day I will return.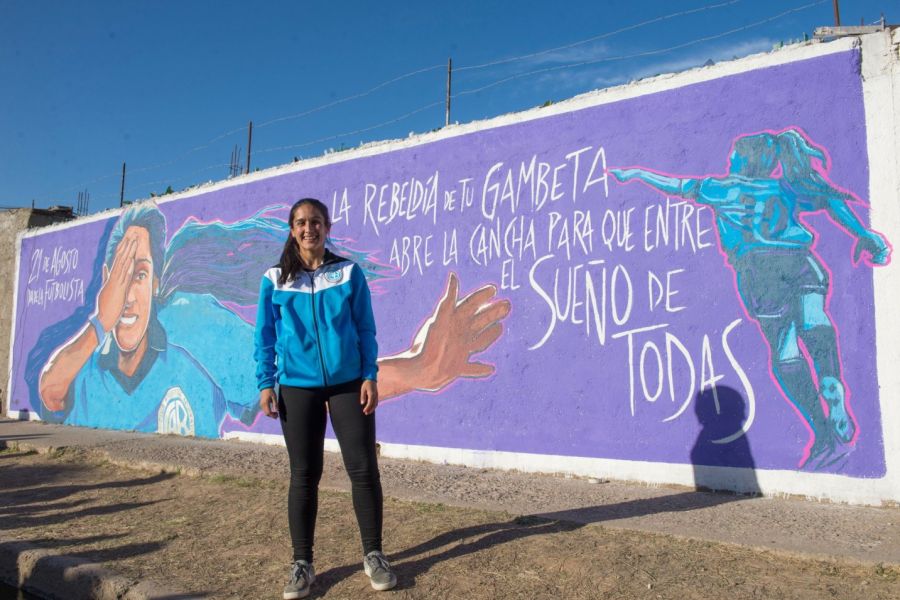 REFERRER. The historic '10' in Belgrano has two murals. One is in the 'Ciudad de los Cuartetos' neighborhood and the other is in the Pasaje Aguaduco. /// PHOTO: CEDOC PROFILE
"We must continue investing in women's football"
"I think we're on the right track," says Romina Gómez when talking about the reality of women's football in Argentina. "You have to continue investing, betting on the growth of this sport," says the historic benchmark from Belgrano and current River Plate player.
"In Córdoba I see that Talleres is becoming strongly involved with women's football and I hope that it will rise so that the province can have more teams in the AFA First Division. And I hope that the Institute follows the same path", highlights 'la Pepa'.
Regarding the team that will participate in the World Cup in Australia and New Zealand, from July 20 to August 20, he points out: "The team looked different in recent friendlies, very good. They have top players and I am convinced that he is going to do a good job".