Elon Musk made a post on Twitter this Thursday, October 27, in which he explained the reasons why the social network was bought. The statement was made after entering the company's facilities in San Francisco, California, United States.
The billionaire CEO of Tesla gave the reasons for the acquisition to his more than 110 million followers and also to advertisers. "The reason I bought Twitter is because It is important for the future of civilization to have a common digital public square, where a wide range of beliefs can be debated in a healthy way, without resorting to violence", began the tycoon.
He also referenced hate speech in his post: "There is currently a great danger that social networks are divided into far-right and far-left echo chambers that generates more hate and divides our society".
He added: "This is why I decided to buy Twitter. I didn't do it because it would be easy. I didn't do it to make money. I did it to try to help humanity, who I love".
On that line, use: "Twitter cannot become a place where you can say what you want without consequences. Our platform has to be warm and welcoming to all, where you can choose your desired experience according to your preferences."
"Too powerful and reckless": Elon Musk flirts with Russia and China and irritates Washington
Elon Musk on Twitter ads: "You can be entertained and informed"
In the same statement, Musk dedicated a separate paragraph to advertising on Twitter. "I also believe that ads, when done right, can delight, entertain, and inform you; they can show you a service, product, or medical treatment you didn't know existed, but it's just right for you. Low-relevant ads are spam, but The highly relevant, in fact, is content."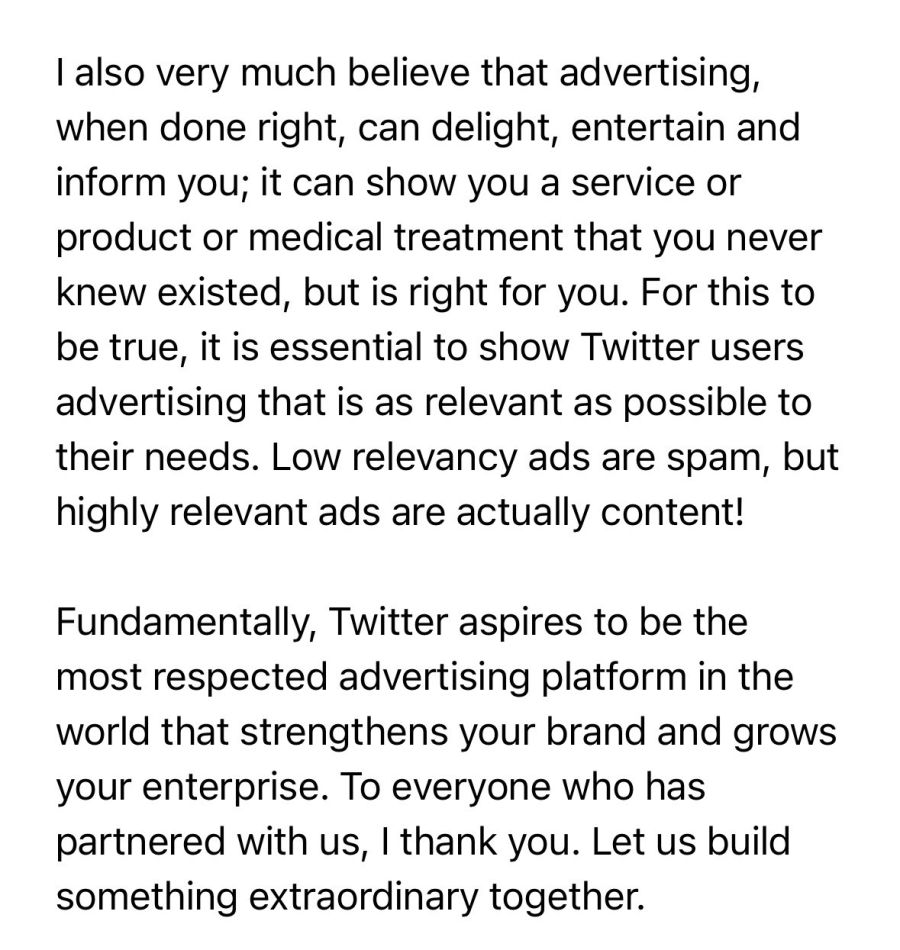 It also aspires to make Twitter "the most respected advertising platform in the world that strengthens your brand and grows your business."
Finally, he closed: "To all who sponsor us, I thank you. Let us build something extraordinary together."
JP/ff