As reported by the National Meteorological Service (SMN), the intense heat continues in the Autonomous City of Buenos Aires and its surroundings, where Red alert remains due to high temperatures. In this sense, another hot week is expected, with a relief in the thermal by the end of it.
The regions affected by the maximum alert level of the SMN are CABA and the Buenos Aires parties from Almirante Brown, Avellaneda, Berazategui, Florencio Varela, Lanús, Lomas de Zamora, President Perón, Quilmes, Esteban Echeverría, Ezeiza, La Matanza, Merlo, Brandsen, Cañuelas, San Vicente and western Magdalena.
Heat wave: until when the extreme weather will continue
According to the SMN, this alert level corresponds to temperatures with a "high to extreme health" effect. Classified as "very dangerous", they can affect everyone, even healthy ones.
The intense heat will make itself felt again, with thermal marks that will exceed 30 degrees and will rise to a maximum of 36, at least until Thursday. Meanwhile, on Friday night the rains would come with some relief, but on Saturday it would improve, although already with a marked drop in thermometers.
Added to this, in different points of Buenos Aires and Entre Ríos there is a orange alert for heat. Likewise, in some regions of Buenos Aires, Entre Ríos, Santa Fe, Córdoba, San Luis and Santiago del Estero warning level is yellow.
Day by day, how will the weather be in CABA and surroundings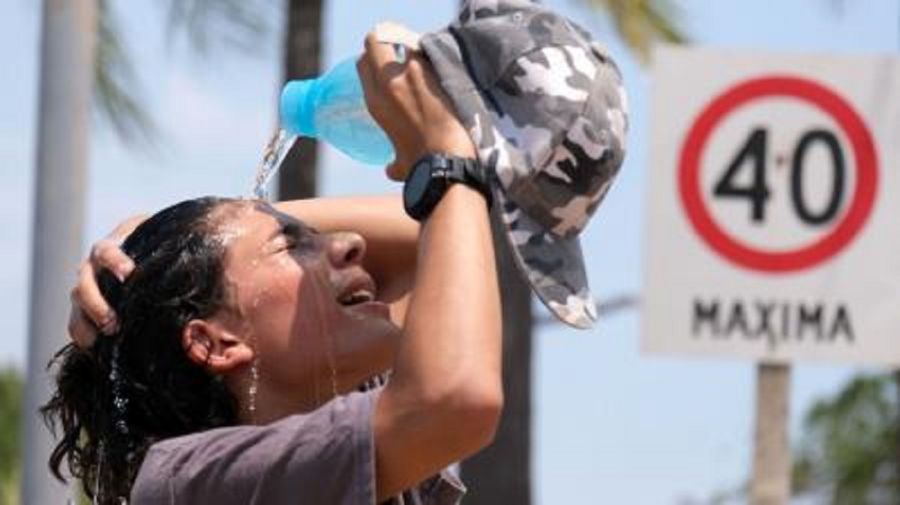 He monday march 6 Partly cloudy skies are forecast, northerly winds shifting to the northeast and then to the east. The thermal marks will go from 25 to 33 degrees.
The next day, the Tuesday March 7Partly cloudy skies are expected, northeasterly winds rotating to the east, while thermometers will be between 23 and 33 degrees.
He Wednesday March 8 the temperature differs slightly with a minimum of 22 degrees and a maximum of 35. Partly cloudy skies and northeasterly winds are expected for that day.
From yellow to red: the Meteorological Service raised the alert for the extreme heat wave
Meanwhile, the Thursday March 9 will be the hottest day of the week with thermal marks that will oscillate between 25 and 36 degrees. The sky is expected to be partly cloudy that day with northerly winds shifting to the east.
He friday march 10 relief will come with temperatures between 22 and 27 degrees, thus being the coldest day of the week. The sky will be mostly cloudy in the morning and rain is announced between the afternoon and night with southerly winds.
For his part, he Saturday March 11 The temperature will remain almost unchanged with a minimum temperature of 18 degrees and a maximum of 28. Like the previous day, mostly cloudy skies are expected, this time with southwesterly winds rotating to the south.
Alerts for high temperatures and maximums that will exceed 35° in some provinces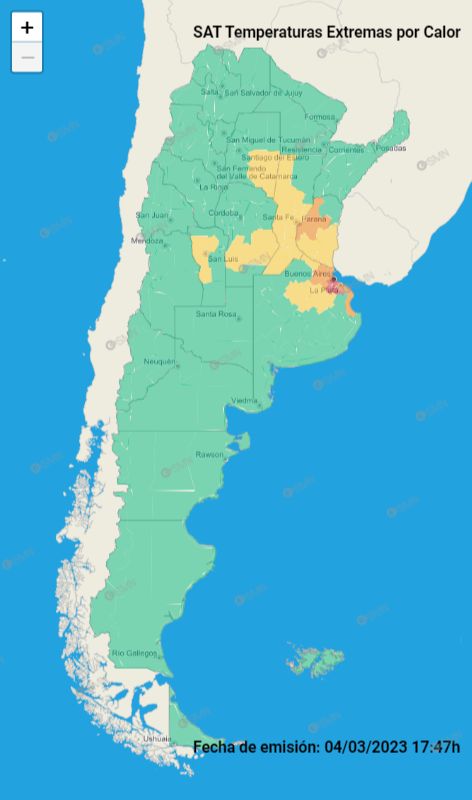 In addition to the red alert in CABA and Buenos Aires, other regions of the country are under warning for high temperatures. In this sense, both Entre Ríos and some points in Buenos Aires govern a Orange alert because of the heat
In addition, in some parts of Buenos Aires, Entre Ríos, Santa Fe, Córdoba, San Luis and Santiago del Estero warning level is yellow.
During this week, in some provinces temperatures above 35 degrees are expected. This is the case of Chubut, Río Negro, Neuquén, Mendoza, San Luis, Córdoba, La Pampa, Santa Fe, Entre Ríos, San Juan, La Rioja, Tucumán, Catamarca, Santiago del Estero, Corrientes, Formosa and Misiones.
Tips for coping with the heat
During this week, care must be taken with sun exposure at times of greater intensity, especially due to burns, sunstroke or dehydration, especially in older adults and children.
Here are some tips to combat high temperatures:
1. Drink a lot of fluids
Doctors no longer usually recommend an exact amount. The most important thing is what you drink: the ideal is fruit juice with one part fruit and three parts water. You can also drink tea. Drinks cannot be taken too cold as the body needs a lot of energy to bring the liquid up to body temperature. For a touch of freshness, it is better to add a little lemon to the drink. Health problems linked to dehydration can occur at all ages, being more frequent in babies and children, older adults and pregnant women.
2. Eat light
The body already has enough with the heat, so it should not be overloaded with fats. Fruits with a lot of water such as melon or peach are ideal as they provide fluids. Meals should be light and easy to digest. Experts also advise avoiding alcohol.
3. Ventilate the home well
A light breeze through the window or air from a fan helps to sleep warm. You can also spray the skin with a fine mist of water before sleeping. All this is better than sleeping with air conditioning. In addition, air conditioning dries the air and with it the respiratory tract, which facilitates infections.
4. Do not shower with very cold water
Although it sounds tempting, the body reacts to this sudden change in temperature by increasing its own. The best is a warm shower with, if anything, some cold jets.
5. If it is very hot, do not go outside
If the thermometer marks a temperature higher than that of your own body, it is better to stay inside. You only have to go to the beach if it is better there because of the sea breeze. It is best to go early in the morning, stay in the shade, hydrate and not move much. In case of physical activity, it is convenient to drink more: the ideal is to add half a liter before and after exercise and drink every 10 to 15 minutes during the process.
6. Beware of children
Adults notice when they are very hot or dehydrated, but children do not. Therefore, parents and grandparents are responsible for preventing them from suffering heat stroke or sunburn. That is why you have to cream them well with protector and they require frequent liquid, in addition to trying to keep them in the shade.
7. Listen to your own body
Before you pass out, your body sends out several warning signals. If you get dizzy or have a headache, go home or take shelter indoors, drink fluids, and cool down. For those who are not in the habit of drinking water, there are cell phone applications that help remember their intake, or they can even use traditional alarms.