"It's an outrage that screwed up people's lives," said the Buenos Aires head of government and presidential candidate, Horacio Rodriguez Larreta about him bus stop that affects the entire country and pointed against the National Government, of which he assured that "He has not governed for a long time".
"It is outrageous that it screws up people's lives," said Rodríguez Larreta. "Millions of people lost the day of work today because of a group that fought with the national government using the passengers as hostages," he added. "I understand the economic difficulties and the responsibility of a government that has not governed for a long time, but unemployment like this is disproportionate and the only victim is the one who needs to move today and couldn't do it", he added.
For his part, Martin Lousteau He criticized that the measure "complicates the lives of thousands of people who cannot go to work and children who miss days of school." We understand the claims, butor we cannot continue being hostages of a group and of the ineffectiveness of the Government. This government has to dedicate itself more to governing and less to the campaign, "he emphasized.
The presidential candidate of Together for Change, patricia bullrichtook the opportunity to make a campaign promise: "With me, this is over".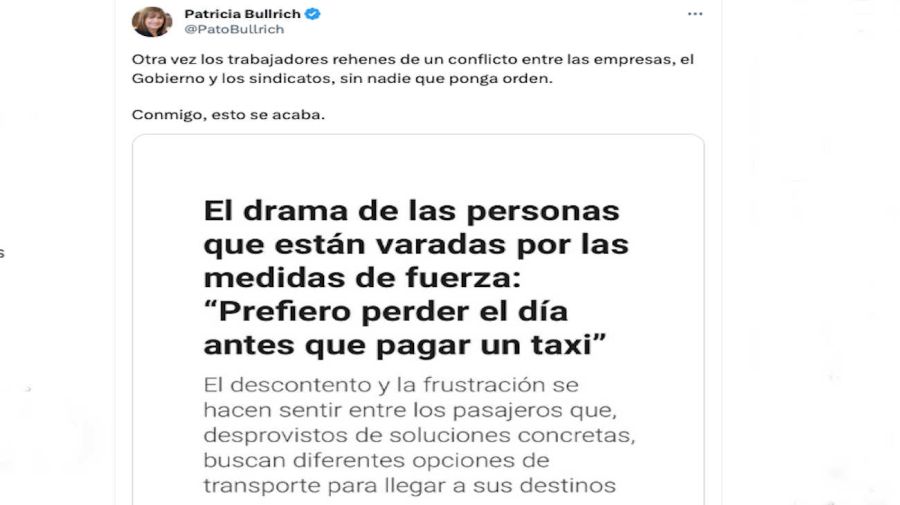 "It is not just a transport stoppage: it is a conflict between an impotent government and a union that let go of its hand," he wrote. Ricardo Lopez Murphy.
"Extortion as a form of claim is no more. Millions of people who cannot go to work, to study, to take their children to school, to live their lives. The sudden decision to leave people without transportation is unacceptable," he said. Jorge Macri.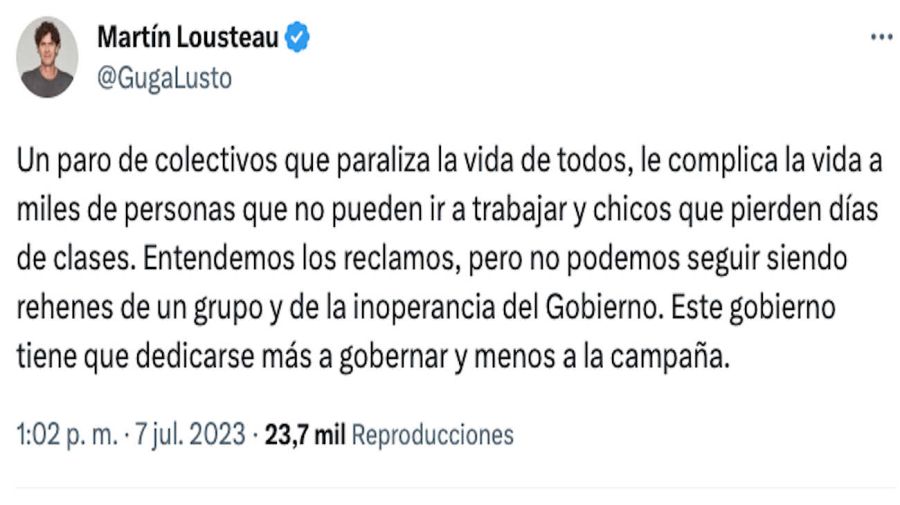 The measures of the Government of the City of Buenos Aires against unemployment
The general parking of vehicles is authorized in the avenues of the City where parking is usually prohibited on business days from 7 am to 9 pm, 24 hours on Friday, July 7. Restriction is recalled to park in sectors where 24-hour parking is prohibited: ramps, sidewalks, public transport stops, loading and unloading sectors, eighths, parking reservations for people with disabilities, entrance to garages, passages, bike lanes, etc.
In those streets where the metered parking system works, it will not be valid during the 24 hours of Friday, July 7 and it will be possible to park for free in micro and macrocentro.
The trips on the highways of the City of Buenos Aires will be free during the 24 hours of Friday, July 7.
The Ecobici system will operate free of charge 24 hours a day on Friday, July 7.
RB PC